Sve ili ništa sa binarnim opcijama
Binerne opcije nude dva izhoda: ili dobivate ili ne. Ako ste u pravu, dobivate uloženo nazad plus zarada a ako niste ne dobivate ništa. Dobro, neki brokeri vraćaju i do 15% novca nazad ali ovo je prije iznimka nego pravilo. To je marketinški trik jer nudi male pare a navlači vas: dobijete jednu besplatnu opciju svakih 8 koje izgubite. A mnogi brokeri uopće i ne vraćaju pare, pa je sve ili ništa i dalje na snazi.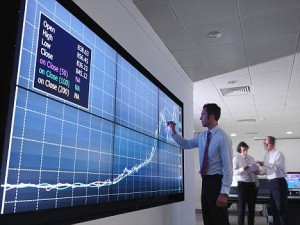 Sve ili ništa
Bez gubitnika nema ni pobjednika. Isto tako, da bi isplatili dobitnike u binarnim opcijama netko mora i izgubiti, i to dovoljno i za pobjednike i za brokere. Za divno čudo, ovaj sustav radi, i to prilično dobro. Tajna je u premiji i zaradi i načinu njihovog obračunavanja. Štogod mislili, ne postoji način da se kvantificiraju šanse na financijskom tržištu ili promjene cijena i da se to primjeni na binarne opcije. Ovako sisitem radi. U suštini, na vjerojatniji ishod imate manju zaradu da bi potaknuli ljude da ulože pare a na manje izgledan ishod je veća zarada da bi se bar netko kladio i na to. Ako broker odradio domaći, tko god da pobijedi, uvijek će biti dovoljno novca da se isplate dobitnici a nešto će i da preostane za brokera. Od tih "ostataka" oni i žive. Mnogo je važnije procijeniti koliko će ljudi da se kladi na nešto nego kako će sve to da se završi. Vi mislite da se kladite protiv brokera, ali to nije istina. Kladite se protiv ostalih ljudi a broker je samo posrednik. Razlog zašto se postoci razlikuju je taj što se količina novca u optjecaju stalno mijenja. "Vjerojatnije" scenarij donosi manje novca zato što je tad manje novca za raspodjelu i obrnuto. U suštini, sve pare se skupe na gomilu a onda se dijele između brokera i pobjednika. Sa stanovišta individualnog trgovca ovo djeluje kao da pobjednik uzima sve – sve ili ništa.