OptionsClick – Platforma
14 prosinca, 2015 by
Danijel
| No Comments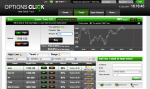 Iako radi tek par godina, OptionsClick je uspostavio reputaciju sigurnost i pouzdanog brokera. Moglo bi se reći da je njihov velikodušan i iskren pristup umnogome utjecao način na koji se trguje binarnim opcijama. To ne znači da se nisu okoristili od ovog položaja; mnogo klijenata su privukli i nastavljaju poslovati s njima do dana današnjeg. Ovo je jedan od najregulisanijih i najpouzdanijih brokera na tržištu.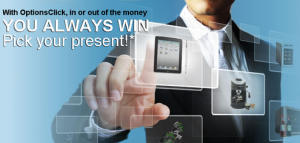 Sajt
OptonsClick stranica djeluje fokusiranije na opuštanje budućih korisnika nego da ih navede da što prije počnu trgovati – stav koji je i razuman i vrijedan spomena. Umjesto da vam izbaci platformu čim se ulogujete, dobit ćete širok izbor tutorijala u svim oblicima: Webinari, tutorijali i e-knjige. Ovo treba da vam pomogne da ovladate osnovama trgovine što prije možete, ako već niste. Ako njihova "akademija" nije za vas, možete istražiti interaktivni meni i sve bonuse inagrade koje vas očekuju. S vremena na vrijeme, organiziraju se turniri za najbolje trgovce gdje se natječu za razne nagrade (npr novac ili najnoviji Samsung Galaxy). U suštini, skupljate bodove dok trgujete i deponujete sredstva na račun, mada nije jasno da li se ovo odnosi i na valute koje nisu ni Američki dolar, ni Euro ni funta.
Trgovanje
Platforma ima jednostavan dizajn i pristup. Naravno, najviše opcija je high / low varijante, sa podkategorijama. U suštini treba pogoditi da li će cijena robe (ili valuntog para, akcije itd.) Biti iznad ili ispod nekog nivoa. Tač opcije su uglavnom na valutne parove, mada se nadje i sirovina poput nafte; ovaj put pogađate da li će cijena dostići neki nivo ili ne. Rejndž opcije se razlikuju: izbor je manji, ali glavna promjena je da određujete da li će cijena ostati u određenom rasponu ili ne. Najzad, to su jednominutne opcije, koje je zapravo mguće podesiti da isteknu za 1, 2 ili 5 munuta, a inače rade kao obične haj / lou opcije.
Sredstva
Bonus polica je zanimljiva, jer uključuje 100% bonus na prvi depozit, 50% na drugi i treći. Daljnji depoziti nisu uključeni a ukupan iznos je ograničen na 10.000 $. 100 $ je minimum ako želite trgovati na njihovoj platformi. Opcije za plaćanje su raznovrsne, jer primaju kreditne kartice, Neteler i naravno SKrill.